A baby changing table can be a good addition to your nursery. It not only allows you to change the baby's diapers easily, but also prevents back pain caused due to the constant bending involved. Here, we provide some practical and simple tips for getting the right changing table.
You need to change a newborn's diaper after every two to three hours, and by the time a child is potty trained, you would probably have changed nearly 5000 diapers.
It is probably not a must-have, but a baby changing table is an extremely convenient piece of furniture for parents who have to change lots of diapers in a day. Having a changing table ensures that you have all your supplies such as diapers, creams, lotions, and wipes at hand and within easy reach. Most parents are quite comfortable changing baby diapers on the floor, without the risk of the child falling off a high place. However, while doing so, you are bending down so often that you are probably straining your back each time. Since baby changing tables are of a comfortable height and are secure on all sides, changing diapers becomes an easier task.
Most changing tables in the market have closed or open shelves, which provide ideal storage space for keeping baby-essentials such as wipes, powder, and diapers. Choosing a practical and attractive changing table is essential. Here are some handy tips to help you on your way.
Check the Different Types of Changing Tables
Wooden Changing Table and Dresser
Changing table with drawer
Changing Table with Open Shelves
Some of the popular styles of changing tables include a foldable changing table, wooden dressers and changing tables, and basic wooden changing tables with open shelves. There are also certain types which combine open shelves or compartments with drawers.
Apart from being extremely sturdy, wooden changing tables are popular because of features such as safety rails, changing pads, and restraining straps for keeping the baby safe. The best option are the ones with drawers that allow easy access to the items. However, if you choose one with open shelves, then keep the items in small wicker baskets for easy accessibility. You can choose a color and style that complements the baby's nursery.
Use a Dresser as Changing Table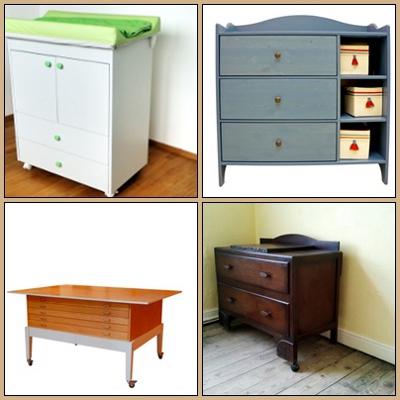 Most diaper changing tables in the market are quite pricey, and if you have a limited budget, then you can avoid splurging your precious money on a separate table, and instead, convert a dresser into a changing table. Installing a contoured pad with a safety strap atop the dresser can prevent the baby from rolling off the flat surface. There are many antique stores that have beautiful dressers that can look wonderful in the baby nursery. When choosing a dresser, make sure it is of a comfortable height.
Use Shelves Above Changing Table
If you are using a simple table for changing diapers, then you can install a shelf above the table, and keep the diaper changing essentials on it. The height of the shelf should allow a person to reach out and take the items easily. This eliminates the need of elaborate changing tables that take up too much space in the room.
Check if the Table is Sturdy and Safe
Safety is one of the most important considerations when choosing a changing table. Usually, changing tables have guardrails on all four sides. These tables should necessarily have safety belts as well to keep the baby in place while you change diapers or reach out for the wipes or powder. If you are using a dresser with contoured pad, then the changing pad should have a secure safety belt to prevent the baby from falling. When using fold-up models, check for sturdiness. Give it a good shake to check if it stays in place. Wooden tables with a wide base and sturdy legs are a better option as they are less likely to wobble.
Always use the safety belt when changing, and never leave the child unattended on the table for too long. If the child is fussy, keep some toys such as rattles to keep the baby occupied while you change the diaper.
Consider the Storage Options
Some of them have drawers, others have shelves. There are many parents who love the convenience of changing tables with drawers that provide easy retrieval of the supplies, and also hides the diapers and other essentials from the curious baby. However, there are others who like open shelves for their easy accessibility.
Check the Height and Width
Changing tables vary in height, and to ensure that you remain free of back pain due to constant bending during a change, make sure that you buy a table with a changing station that is not too low. A table which is very low puts a strain on your back.
Choosing the right changing table is not that difficult. Keep in mind these simple tips and make sure the table you choose is safe for the baby.